PLEASE NOTE: THIS RING IS ACTIVE; BUT, IT IS CURRENTLY CLOSED TO NEW MEMBERS. PLEASE CHECK AGAIN, AT A LATER DATE.
BRING A STRAY INTO
YOUR HEART AND HOME
This ring is part of
"Rings For A Cause"





"How Did This Happen To Me?"
Where's my mommy, my daddy,
The children that used to play with me?
I remember a soft bed and lots of good food,
And toys and people that loved me.
It's cold out here; and, I'm tired and hungry
How did this happen to me?
Can anyone hear me crying...does anyone care?
Won't someone please take pity on me?
I don't need much...some warmth, some food, some kindness;
But, most of all, just someone to love me.
The big dogs, the noisy cars...I'm always so scared.
How did this happen to me?

~ Ellie J. ~




The next time you see a stray cat, please think about this. Chances are she once had a warm home and plenty to eat. Look deep into your heart and think about your own beautiful furbabies. What would happen to them, if they were suddenly lost and on their own. Would they survive? No...not without help and kindness from strangers.

Whether she was intentionally abandonded or carelessly allowed to wander away, she deserves better than a life of starvation and danger and eventual death on the streets. If you can't bring her into your own life, or find a good home for her, please call your local rescue or no-kill shelter. To do nothing is just plain inhumane.


Please help us spread the word, and join the "Bring A Stray Into Your Heart And Home Netring"


Criteria To Join: Sites do not have to be animal-related, but they should be "family-safe".

Sites depicting any type of hate, abuse, or pornography are not admitted.

Sites that promote declawing or are against spay/neuter are not admitted.

Sites created by breeders or sites which promote breeding are not admitted.

Sites which promote the selling of animals, puppy mills or catteries are not admitted.

Instructions for Joining the Webring:

Please download the graphic to your own server. No direct linking will be allowed.




Fill out the form, below.
You must submit the EXACT URL of the page where you will post the ring. If you post it on a "webrings" page, then that is the URL you MUST submit.
After you have filled out the form, you will receive your code by e-mail; and your site will be added to the queue.
Copy the code to your page, and e-mail me to add your site to the ring.
You will have seven days to add the code. After that time, your site will be removed from the queue, if you haven't posted the ring. If this happens, you may join the ring again.
Once your ring is posted, it should look like this:



---
---
To edit your site information and/or URL enter your Site ID# and Password below
---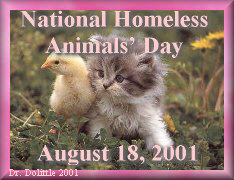 Click this banner to help some strays in need


Cats & Pink Cadillacs is also the home of the
CRAZY FOR CATS NETRING

and the

LOVE THEM, DON'T ABUSE THEM NETRING
All rights reserved, Cats & Pink Cadillacs, 2000.
Please do not copy any of this page without asking permission.
(Permission to copy the original poem, "How Did This Happen To Me", will be only be granted if the "Bring A Stray Into Your Heart And Home" ring is posted in close proximity to the poem. Please include my signature (Ellie J.) as a link back to this page)


---
---