PLEASE NOTE: THIS RING IS ACTIVE; BUT, IT IS CURRENTLY CLOSED TO NEW MEMBERS. PLEASE CHECK AGAIN AT A LATER DATE.
LOVE THEM, DON'T ABUSE THEM
This Ring Is Part Of "Rings For A Cause"
Not a day goes by that we do not hear of some horrendous incident of animal abuse. It's time to speak up for the innocent animals, who cannot speak for themselves.
Together we can put a stop to the abuse and see that the abusers are punished.
If you believe, as I do, that all animals deserve to be treated with love, kindness and respect, then I invite you to join this webring.

Criteria To Join:
Sites do not have to be animal-related, but they should be "family-safe".
Sites depicting any type of hate, abuse, or pornography are not admitted.
Sites that promote declawing or are against spay/neuter are not admitted.
Sites created by breeders or sites which promote breeding are not admitted.
Sites which promote the selling of animals, puppy mills or catteries are not admitted.

Instructions for Joining the Webring:
Please download the graphic to your own server. No direct linking will be allowed.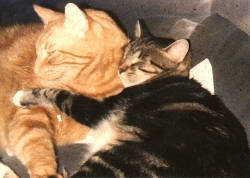 Fill out the form, below.
You must submit the EXACT URL of the page where you will post the ring. If you post it on a "webrings" page, then that is the URL you MUST submit.
After you have filled out the form, you will receive your code by e-mail; and your site will be added to the queue.
Copy the code to your page, and e-mail me to add your site to the ring.
You will have seven days to add the code. After that time, your site will be removed from the queue, if you haven't posted the ring. If this happens, you may join the ring again.

Once your ring is posted, it should look like this



---
---
To edit your site information and/or URL enter your Site ID# and Password below
---
Cats & Pink Cadillacs is also the home of the
CRAZY FOR CATS WEBRING

and the

BRING A STRAY INTO YOUR HEART & HOME WEBRING

All rights reserved, Cats & Pink Cadillacs, 2000.
---
---