Also visit:

CAUSES PART 2

CAUSES PART 3
Additional issues. Current events.


---
I believe that it is our duty, as human beings, to protect the animals that we share this planet with....and most of all, we must protect the animals that we share our homes with.
If you haven't read OUR STORIES I hope you will do so. Why was Bambi sick and homeless. Did a careless owner let her out to wander or be scared away? Was she just part of another litter that nobody wanted? And what about KeeKee? What was he doing in a filthy cage, in a petshop, before he was even 3 weeks old? Although their stories have a happy ending, most don't!
Please click the links and banners, below, to learn more about animal cruelty; and, to find out how YOU can help stop it!
But before you proceed, please click the American Flag to read the ANIMAL'S DECLARATION OF INDEPENDENCE.

Click this banner to find out who your congress persons are, and where to write, to express your concerns on animal issues.
**********





You can make a difference in th e life of a shelter cat. Please click the "Guardian Angel" to find out how.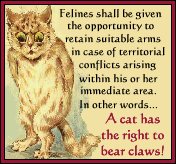 Click Banner to See Hope Now
And Help Prosecute Her Abuser








STOP THE ABUSE!
And report the abusers.
1-800-555-6517
e-mail to action@aldf.org
or visit
ANIMAL DEFENSE LEGAL FUND




Comprehensive list of shelters and much more.


---
AN INDOOR CAT IS A SAFE CAT!

The difference between an indoor and an outdoor cat



DO YOU KNOW WHERE YOUR CAT IS?






If you are looking for a pet, or need an animal shelter, the next two links can help you find a no kill shelter in your area


PETS AND THE MILITARY
Don't abandon your pets!!
---
STOP CRUEL TESTING ON ANIMALS!!
Please click HERE to see how you can help stop scientists from infecting 120 healthy cats and kittens with FIV virus and eventually euthanizing them.



If you love animals; but are unable to share your home with one, please visit PET ACTION LEAGUE to see how you can sponsor a shelter pet.
Meet OZZIE BEAR, my sponsored cat and read his story!

Another way to HELP THE ANIMALS...at absolutely no cost to you!




---

Next Skip Random List Join





---