CHRISTMAS IN SOUTHERN CATIFURNIA, by Sara

Most people think that there is no Christmas spirit here, because it never snows and stays warm all year long.

Since I was born in Catifurnia, it's the only kind of Christmas season that I know. We may not have snow, but we have something very fun and very beautiful.

It's the annual Christmas Boat Parade in Mewport Beach Harbor, and as much as I hate going in the car, I couldn't wait to go to the Parade. It starts a couple of weeks before Christmas and runs at night, on the weekends.

I gritted my teeth and got into the car (without the usual yelling) and off we went...

We only drove a little while, and we were in Mewport Beach. We went over a small bridge, to the island. There were lots of summer homes and good places to eat. (I guess they were good - they sure smelled good).

Then, we got to this tiny little ferry boat. I was never on a boat before, and I didn't know if I wanted to go on this one, but I didn't have a choice. Before I knew it, meowmie drove her big old pink Cattylac onto it, and I was trapped!

Pretty soon the little ferry boat started to move and we were floating!! I was so scared, but in a minute, I saw one of the beautifully decorated yachts go by. Now I was intrigued.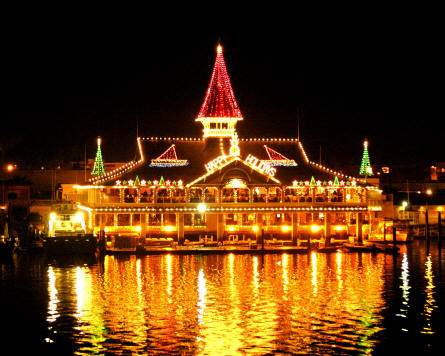 It seemed like hours, but it was only a few minutes and the ferry boat docked on this thing called a peninsula. All I cared about was that it was dry land. You can call it anything you want.....!!
We found a nice spot on the beach and spread out our blanket. Meowmie had packed a "dinner picnic" and I could smell the warm chicken, but I was so excited about all the pretty lights that I almost wasn't hungry.
Each boat had about a gazillion lights and Christmas music playing! I couldn't take my eyes off of them. One after another, I could never pick a favorite.
Remember, I said I was "almost" not hungry, right? Well the smell of the chicken got to me, and I started munching while I watched the boats go by. Things just couldn't get better - or could they?
Yes, they could! As I munched and watched, suddenly a big boat went by and lo and behold, Santa Claws and all his reindeer were on it! That's right, I couldn't believe it either.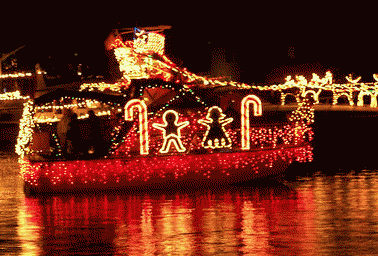 I almost dropped my chicken in the sand (don't worry, I never drop chicken), as I turned to meowmie and asked her if we could go see Santa.
Meowmie said we could go to the mall and see Santa as soon as the parade was over. So, after the last beautiful boat went by, we went back to the car, back to the scary little ferry boat and off to the mall. I was so excited, I didn't mew a word, all the way.
Once we were in the mall, it seemed like we walked forever, but finally, there he was. I was soooo tired, and the waiting line was soooo long, but I was determined!. Finally, it was my turn! i jumped into Santa's soft lap and nuzzled against his long white beard.
Santa asked me if I had been a good girl all year, and I told him that I always had a bath after I ate my food and I always used my litterbox. Then, he asked me what I wanted for Christmas, and all I could say was "zzzzzzz"!
Yes, it's true. Santa was so comfy and cozy that I had fallen asleep! I didn't remember the trip home or going to bed. I guess meowmie and daddy put me in bed and tucked me in.
The next morning, when I woke up, I thought it was all just a wonderful dream - that is until I noticed the little grains of sand between my toes........
Happy Holidays to You All!!
(Note from Sara's meeowmie - Sara didn't mean to spell Newport Beach wrong. She really beleves that it's "Mewport" Beach, and I didn't have the heart t tell her otherwise.).
---
---
---
---
---