Great gifs in a well organized site. Excellent selection of signs and bars, and the best place for Valentine's Day.

Thank you Melissa




Very nice gifs. A fantastic selection of Holiday stuff!

Sadly, Lady Oh passed away on June 10, 2000. Her site will remain; but, she will be greatly missed.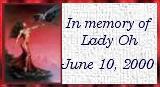 This site gets bigger every time I visit. Of course my favorite part is the huge selection of cat images.

Thank you Cyberkittin




Excellent variety - everything from Rock to Country to Oldies to Broadway.

Thank you Kit.




This site has a fabulous selection of cat backgrounds, including tile sets and border sets. A must see for cat lovers!

Thank you Cats Eye View.




A great selection of cat images and backgrounds.....and the best collection of cat lines anywhere.

Thank you Cats and Kittens.
---
---
---
Join Tripod

Get your own FREE homepage, and a lot more.


---